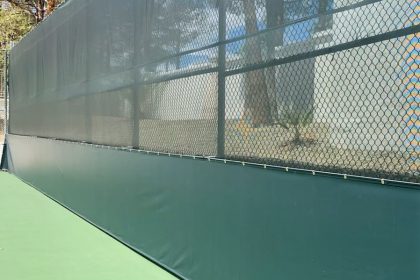 Multiple material choices from All Court Fabrics means getting the perfect tennis windscreen for your local weather conditions and facility requirements. From economical Polypro Tennis to Permascreen Plus, the toughest tennis windscreen on the market, All Court Fabrics can quickly help you get the best value on your tennis windscreen purchase.
See the details for all the materials All Court Fabrics offers – tensile strength, opacity, weight, color choices, and more. Find the perfect material for your facility's needs. Updated for 2022, All Court Fabrics' material spec sheets can be downloaded and printed for your convenience.
We offer materials based on 20 plus years of tennis experience; our materials offer a full range to courts across the country. Additionally, privacy needs can be addressed with our varying grades of opacity.
From high schools to the pros All Court Fabrics ships high quality athletic and tennis windscreen to facilities across the country. Choose your material, color, and custom fabricate down to the inch. Print options for every budget. Get affordable logos and lettering with fast turnaround USA manufacturer direct.
---