We manufacture custom fabricated windscreen from premium material. Our trained support staff can solve virtually any tennis wind screen, baseball and privacy windscreen need. Add your personal logo. Choose color and size. We also make quality gym floor covers.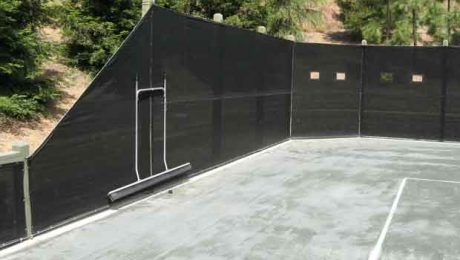 All Court Fabric's Polypro 95 is a popular choice for tennis courts, outdoor athletic, and permanent fence screen where maximum privacy is required. Custom fabricate to any dimension
. For use when full area coverage and durability are required. Available in Dark Green or Black. Ships finished with 4 ply reinforced hems for maximum durability and brass grommets at regular intervals for easy install

▶ Fabric: 100% polypropylene
▶ Opacity: 95%
▶ Weight: 7.0 oz per square yd.
▶ Tensile Strength: 300 x 205
▶ Fabrication: 4 ply, reinforced
hems on all sides with #2 brass
grommets placed at 18" intervals.