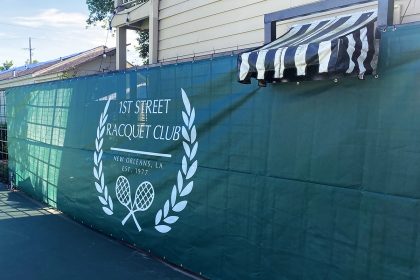 Permascreen Plus from All Court Fabrics is a weather
tough vinyl coated polyester that is an excellent choice
for permanent installations such as baseball and tennis
windscreen.
For outdoor athletic and other permanent installations. Available in forest green, black, royal blue, and navy. Permascreen Plus has an opacity of 85% and weight of 11 oz. per square yd. It's the toughest windscreen on the marker. When your local conditions are tough on windscreen, choose Permascreen Plus for an upgrade that will last years.

▶ Fabric: Vinyl Coated Polyester
▶ Opacity: 85%
▶ Weight: 11.0 oz. per square yd.
▶ Tensile Strength: 375 lbs. x 300 lbs
▶ Fabrication: Four ply, reinforced hems with reinforced
18oz. vinyl tape on all sides. #2 brass grommets placed
at 18" intervals