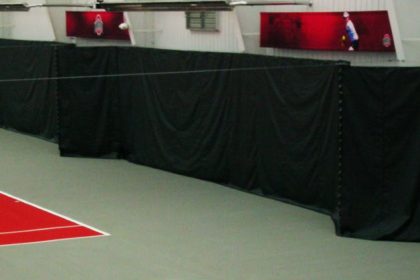 Rely on All Court Fabrics 20 years experience to update and upgrade your indoor tennis court facility. Custom fabrication down to the inch, quality materials, and print options are just a few of the advantages of choosing All Court Fabrics on your next project.
Vinyl Backdrop Curtains
The best value upgrade for your courts. Improve safety, custom fabricate to any dimensions, plus affordable print options. Available with vents, vinyl doors, and more!
Durable solid vinyl indoor curtains are made from 18oz. Fire Retardant solid vinyl, available colors are Dark Green, Black and vibrant US Open Blue.
Divider Netting
For tennis courts and gymnasiums – custom fabricate to any dimension. Multiple materials grades available.
Wall, Rail, and Post Padding
In high-speed sports like tennis and basketball, often the action puts athletes at hazard for a collision with the wall, columns, I-beams, or other dangerous surfaces. All Court Fabrics top quality indoor padding to ensures the safety of your athletes.