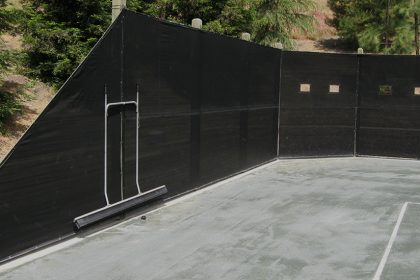 Buying manufacturer direct means you're not limited to standard sized fence screen panels. Get finished tennis and athletic windscreen to your exact measurements at All Court Fabrics.
Unique shaped tennis and athletic facilities demand a custom windscreen solutions, which All Court Fabrics delivers every day! Our custom fabricated athletic windscreen ships with 4 ply reinforced hems and brass grommets that can withstand years of wear and tear.
Don't settle for standard fence screen, get custom fabrication down to the inch for a perfect fit to your facility's unique dimensions. All Court Fabrics can work with any size dimension requirements. Our experienced sales support can quickly answer all your material and sizing questions, and get you fast turnaround on custom windscreen today.