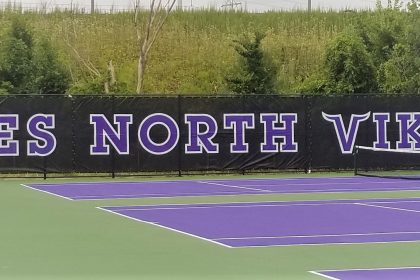 Permascreen 70, made from durable vinyl coated polyester, is our most popular tennis court windscreen. This material is currently in use at many professional tournaments nationwide a well as high schools and park districts around the country.
Permascreen 70 can absorb years of day to day wear and is virtually impossible to rip. Available in 10 + colors always in stock for fast custom fabricated turnaround.
▶ Fabric: Vinyl Coated Polyester
▶ VCP: Open – 9 x 12 Weave
▶ Opacity: 70%
▶ Weight: 9.0 oz. per square yd.
▶ Tensile Strength:
Grab: 230 lbs. x 200 lbs. Strip: 200 lbs. x 140 lbs
▶ Fabrication: Four ply, reinforced hems on all sides with #2 brass grommets placed at 12" intervals. 3 year limited warranty.