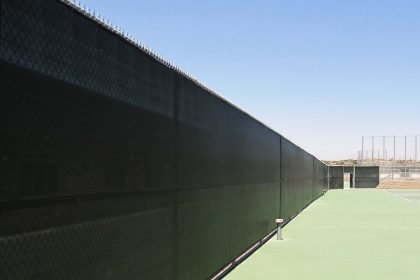 Polypro Tennis, is a 100% lathe-lathe leno weave windscreen and is a very popular choice among tennis court professionals. This material comes standard in Dark Green and Black and offers 85% opacity and wind block. Can be custom fabricated to any size.
Polypro Tennis By The Numbers:
Fabric: 100% polypropylene
Opacity: 85%
Weight: 6.0oz. per square yd.
Tensile Strength: 299 x 204
Construction: 28 x 14 leno weave
Fabrication:
Finished Polypro Tennis ships with 4-ply  sewn hems,
reinforced with 18oz vinyl tape. Brass grommets at 12" intervals.