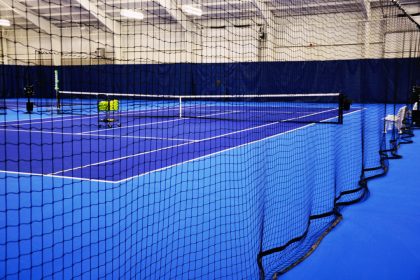 It's time to think about updating and upgrading your indoor courts for the upcoming indoor tennis season. Let All Court Fabrics deliver top value upgrades to your courts before your season begins. Custom vinyl is a great place to start on your updates – curtains, doors, windows – can create the perfect background and vibe for your courts. Add printing for affordable branding. Divider netting can be customized to your exact specifications, and comes in multiple gauges depending on your usage. Finally, athletic safety padding from All Court Fabrics can be fabricated to any dimensions including i-beams, posts, and rails. If your courts configurations are tight athletic padding can be a great addition to your court management strategy.
For indoor tennis courts, health clubs, country clubs, schools, and more – All Court Fabrics has products for your entire facility, all custom fabricated to your exact specifications, including
Vinyl backdrop curtains with doors and vents
Custom printed backdrop vinyl
Custom Fabricated gym padding for any length and height walls
I beam padding
Divider Netting for tennis courts and gyms
Rely On Our 20 Years Tennis Manufacturing Experience
Better indoor tennis court management, safety, and aesthetics. Custom fabricated backdrop curtains, divider netting, and custom padding products.