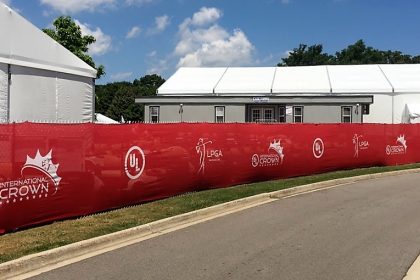 A Better Event With Printed Fence Screen
With the return of outdoor events comes the need to better manage attendees. Printed privacy windscreen from All Court Fabrics not only helps create clearly marked crowd controls but with printing can provided important attendee information and guidance.
Not only better crowd management, custom printed fence screen is an affordable upgrade for your outdoor event this year. Our expert in-house print team helps you get it exactly right. Logos, lettering and full color graphics can be an excellent way to promote your sponsors and customers.
Get fast turnaround USA manufacturer direct and go from idea to install in just a few weeks. Ask about our affordable and durable direct printing options, which yields excellent logos and lettering that can be reused year after year for repeating events. With the return of outdoor events this year comes new challenges. Printed windscreen from All Court Fabrics can help both with crowd control as well as provide important information to your attendees. It's the best value upgrade for your upcoming event. Buy with confidence with our industry leading 5 year 'No Fade' print warranty.