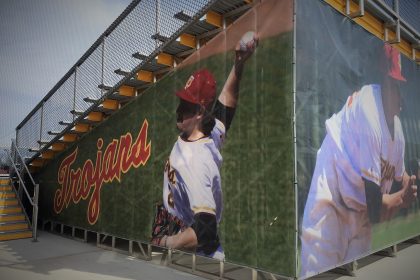 See what you can do with All Court Fabrics! Quality materials, custom fabrication, and 3 print options for every project budget. When it's time to update your tennis windscreen, outfield fence screen, or sports field fencing consider perfect fit custom printed fence screen from All Court Fabrics.
Print on multiple material grades, get the right material for your usage and weather conditions. Fabricate to any dimensions – don't settle for standard sized panels on permanent fence screen projects. Custom fabricate down to the inch for a perfect fit upgrade for your courts or fields. Choose from 3 print options for every project budget, get an affordable, durable printed windscreen solution!
Printed windscreen is a great way to market your team and sponsors, as well as give a great photo-op for fans and schools.