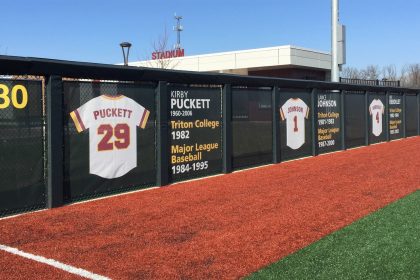 See all the places on your field where All Court Fabrics can help upgrade your baseball or softball stadium affordably. The All Court Fabrics difference? 20 plus years baseball product manufacturing experience. Rely on our expertise to get the best value upgrade for your baseball or softball stadium
Custom fabrication is critical when it comes to baseball & softball stadiums with their unique dimensions and wide range of local weather conditions. Don't settle for prefabricated solutions when custom fabricated materials from All Court Fabrics can cover your unique dimensions perfectly.
Get more baseball product choices manufacturer direct at All Court Fabrics – material and color options plus multiple print choices for every project budget.
From high schools to professional stadiums nationwide All Court Fabrics can help you get the best value upgrade for your stadium
Outfield Fence Screen
Dugout Windscreen
Backstop Windscreen
Bleacher Screening
Foul Line Netting
Backstop Netting
Outfield Fence Padding
Dugout Rail Padding
Foul Pole and Lighting Pole Padding