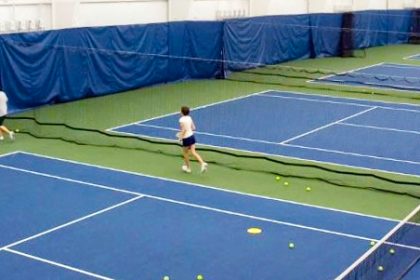 Indoor tennis season is just around the corner. Upgrade your facility with updated screening, divider nets, vinyl doors and more. The best value upgrade for your facility. Expert printing available. 5 year No Fade warranty on all printed products.
Backdrop Curtains
Dress up your facility with the most durable solid vinyl indoor curtains. Made from 18oz. Fire Retardant solid vinyl, available colors are Dark Green, Black and vibrant US Open Blue!
Column Padding
Keep your players safe with high density foam column padding. Custom made to fit any i-beam or structural support, let us help you pad any exposed surfaces to to make sure players are safe at all times! Our high density foam comes in a variety of thicknesses and comes encapsulated in Heavy duty, Fire-Retardant Solid vinyl in a variety of colors.
Indoor Tennis Netting Dividers
Available in multiple gauges to provide best value. Custom fabricate to your exact dimensions.