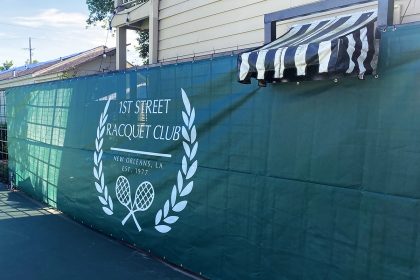 Choose from multiple athletic screen materials at All Court Fabrics, including Permascreen Plus, the tennis windscreen that can stand up to even the most challenging weather conditions, including this recent installation in New Orleans, LA.
Permascreen Plus is a rugged vinyl coated polyester that is an excellent choice for permanent installations in tough weather locations.
Available in forest green, black, royal blue, and navy.
Opacity of 85% and weight of 10oz. per square yd.
Toughest windscreen on the market!
Get the right material for your local conditions from All Court Fabrics. Our experienced sales support can get your questions answered in one call. Consider printed tennis windscreen for your grand reopening this spring, it's the best value upgrade for your tennis courts.